Source: Social Media Examiner
Do your customers use Facebook Messenger?
Messenger allows people to have private one-to-one communication, similar to a text chat.  Most of the time people use this to talk to their Facebook friends, but you can also use it to communicate with Pages and Brands.
Are you wondering how to utilize Messenger in order for people to find you?
Recent updates make it simpler for businesses to speak with customers using Messenger's private, coordinated messages.
How Messenger Works for your Customers
From the messenger app, users go to the People tab.  They will have the option to scan a messenger code or invite people to chat.  By selecting the Scan Code option, they can scan a new code or scan a code they saved to their photo library.  Unlike QR Codes, the Facebook Messenger code is an image, with blue lines around it, so the codes are branded and distinct.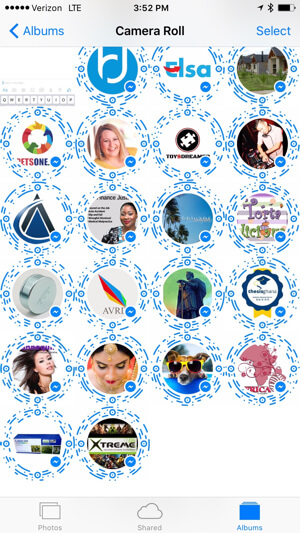 When your messenger code is scanned, a private messenger screen opens on the phone or browser.  The visitor can chat with you directly, or they can tap on the profile photo to learn more about you and go to Facebook page.
In this article, you'll find out how to set up your business to connect with customers via Facebook Messenger.
1. Share Messenger Codes
Messenger Codes are a new way individuals can communicate with your business. People can scan these codes with their Messenger application to start a private message with your business.
Your messenger code for your Facebook page can be found in your Facebook page's message inbox. At the bottom, near your "Away Message" toggle,  there is an icon for your Messenger code. The first time in Messenger, you may get a notification about it.

When you tap the icon, a pop-up screen appears that shows the messenger code, the option to download it, and a brief demo of how it functions.
When you tap the Download drop-down, you have the choice to download the Messenger code in three sizes, according to where you prefer to place it.
Share your messenger code on pages and posts to notify fans that they can scan the code and message you anytime.
When people are on your Facebook page, the Message button is available from the mobile Facebook application or their desktop browser.
The beauty of the Messenger codes is when they are used offline. Think business cards, store signage, leaflets, product packaging, print ads, etc. You can print your Messenger code anyplace you would want to give your customers the option to connect with you through a Facebook private message.
When you share your Messenger code on the web, instruct people to save the Messenger code image to their image library to scan it later. This way they will be able to upload it later if they want to messenger you again.
If you want to share the Messenger code for your personal profile, you can go to your Messenger application and tap on Settings. There you'll see your own profile Messenger code.
On a mobile phone, tap on the code to get a larger image.  To share it to different social networks or save it to your image library, click the share symbol at the upper right of the screen.
2. Promote Private Messaging Links
Facebook Pages and Profiles now include a link that to start a private message. This link is included in your call-to-action buttons in your Cover Image, next to the Like button. You can copy your page's link by clicking on the drop-down from the Message button.
The URL will take anyone who clicks it to private messenger screen.
You can also get this same link for a page from the Facebook Pages application by tapping on the three dots at the bottom right of the Page Settings.
When you click the Share Link to Message Page, it will give you the option to share it or copy it.
If someone were to click or paste the link into their browser they get the option to message your page in their browser or in the Messenger app.


To find your personal Messenger URL, go to the Settings tab in the Messenger app.
One thing to note: you don't generally need to get your URLs for private messages from either area. You should simply include your username (facebook.com/username) to the accompanying URLs:
fb.me/msg/username
m.me/username
During Social Media Examiner's random testing, the m.me/username URL didn't always work when used on a mobile device, for example, Safari on an iPhone. The fb.me/msg/username is by all accounts more consistent for Facebook pages. Either works on a desktop program.
3. Auto-Reply With Messenger Greetings
Since Facebook page messaging is probably going to get a lot more popular, you should set up some greetings for your messages. You now see the choice to set a Messenger greeting in your page's messaging settings.

Messenger greetings will appear to the people who are sending your page a message for the first time. Greetings are not Instant Replies, which are sent to individuals after they've sent you a message.
In Business Manager
Inside Business Manager, managers will find an option to Add Personalization (such as the first name of the person) to replies and greetings.  Currently, pages outside Business Manager don't have the Add Personalization option.
Personalization can include the messenger's first name and last name, along with the link to your site. Having a customized greeting is a great way to let people know what types of messages to send to your page, and what not to send, such as medical information and passwords. You can also automatically inform the sender on response times and who will be replying.
#4: Locate Businesses by Username or Business Name
In addition to Messenger being used by your potential customer to message your business, it also allows them to search your business as well. When they start a new message, they can search for your business using either your business name or your page's username (@JaspersMarket).  As Page usernames become used more often, you can show your username below your page name instead of the Category.  Don't worry, your category would still be seen on the About page.
Get More Involved With Messenger for Your Business
If you want your customers to get more involved with your business messenger,  then you should sign up with Businesses on Messenger Program. It's now accessible to select businesses in the U.S.
Once you have signed up for the Businesses on Messenger program, you'll receive a message that says, "In the coming months, we'll be working to understand the kinds of communication people would most like to have with businesses on Messenger. We hope to have more news to share as we improve the experience."